Love or Music… Which should they choose and what price do they have to pay?
Love will give Kit and Tully a future together, but music can make Tully's dream come true.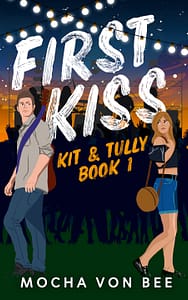 FIRST KISS - Kit & Tully Book 1
When new guy, Tully, falls for sixteen-year-old Kit, he needs to find a way to win her over. Because, right now, she only has eyes for scorching hot lead-singer, Mac Whitehead, who's turning every head in town. Neither believe a half-forgotten legend is true, but once a sleeping Celtic god awakes, it's too late to turn back, too late to refuse his offer… Love or Music… which will it be?
FIRST VALENTINE - Kit & Tully Book 2
Tully has no memory of what happened at the ancient passage grave on the night of the full moon, but Kit finally figures out what he chose. She decides he got it wrong. The Celtic god of love and music might have made their wishes come true, but the price is too high –– a hopeless future trapped in their deadbeat home town, unless Kit can find a way to change it. Unfortunately, there's only one way to do that. Kit needs to seek out Aonghus again. But now she knows the risks involved, is she desperate enough to go through with it, especially when Tully doesn't agree?
FIRST ALBUM - Kit & Tully Book 3
Felice, Kit's sceptical best friend, doesn't believe Kit and Tully woke a sleeping god and were offered a choice… Felice has got a coveted place in art college and she and Kit are going to share a cottage in Dublin. Tully is back from a UK tour, while Spike has promised to chaperone Kit around Trinity and orchestrate a brilliant social life for them all. What could possibly go wrong? But when their best-laid plans start to unravel, not even Felice can deny that the fateful choice might have consequences for them all…
ZERO CHANCE - Kit & Tully Book 4
If bad boy, Mac Whitehead believed in ancient legends, he'd know exactly what to choose, no matter the cost… Meanwhile, despite hot rockstar looks and a raspy voice, nothing is going his way. Mac blames Tully for his run of bad luck. And he's convinced Kit is the solution to all his problems. But Mac has never paid any attention to Kit before, not even when she had a crush on him. She knows it can mean only one thing. He wants something. But what could possibly persuade Kit to help arch-enemy, Mac Whitehead?
SECOND CHANCE - Kit & Tully Book 5
After a sell-out tour, Joe Killeen, lead guitarist and Tully's trusted confidant, should be over the moon at the band's success. Instead he's worried about finances. None of them realised the costs were spiralling out of control. Now they need a hit to get them back on their feet. The problem is their biggest songs so far are the ones Kit and Tully wrote together, but Kit isn't in the band and Joe doesn't want her writing any more of their songs. Tully can't write without Kit's help and, as tension rises within the band, something has to give. Which will it be, love or music?
LAST CHANCE- Kit & Tully Book 6
Like everyone else, Gary is moving on with his life. After an accident that almost killed him, he's on the road to recovery and believes the worst of it is behind him. He worries about Tully and knows something in the past haunts Kit, though she has never told him about Aonghus or the choice he offered. When Kit is faced with a difficult choice, Gary is the one she turns to, but he knows he has to accept her decision. He has no idea how precarious it all is or to what extent his future depends on the whims of fate. Love or music… how many must pay the price?
Find out what Kit thought when she first met Tully!
FIRST SUMMER is a bonus companion to FIRST KISS, told from Kit's point of view.
Find out about Kit's first impressions of Tully
Discover what her home life is really like
And her friendship with Felice and Spike
Get Kit's take on Aonghus…
Join my Mailing List and get FIRST SUMMER, an Exclusive Kit & Tully Bonus in your Inbox!